We have our own 1400 acre water surface, and production alliances from the north to the south of the Sea of Cortez and coasts of Hermosillo, with a total area of 4,960 acres that are supervised by our technical personnel.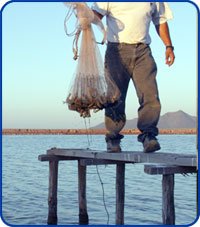 Since the beginning and during its entire life cycle, our product is subject to a continous and strict quality control and observance, thanks to the advanced aquaculture technology we have developed.
Today, EL CAMARON DORADO's team continues refining the art of developing high quality shrimp, to be able to offer them to our consumers with great pride.
EL CAMARON DORADO has a production of over 3 million pounds per year.
Our product is Mexican white shrimp of the (Litopenaues vannamei) genus and species.
Harvesting is done by mechanical systems, achieving a fresh and high quality product , fulfilling expectations of the world's most demanding markets. All is done through a meticulous biometric test in each of our ponds.
Shrimp are recieved in containers with ice and transferred to the packing plant.