EL CAMARON DORADO, S.A. DE C.V. is a Mexican shrimp grower, producer and marketer.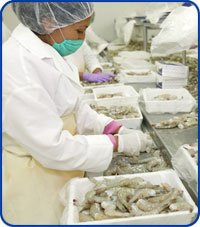 It is one Mexico's leading aquaculture companies thanks to its modern infrastructure, highly qualified professionals, state-of-the-art technology, and strict quality control .
Over 27 years of expertise supplying the best products to diverse countries are proof of our quality. Shrimp are fed and bred using strict sanitary controls and sophisticated technology, achieving the highest yields in outdoor pond systems.
Presently, EL CAMARON DORADO is involved in the following activities:
Aquaculture shrimp production.
Shrimp packing and freezing.
Shrimp marketing.